What benefits to adopt a cloud computing solution?
Cloud computing, is a solution that gives you the possibility to save files on a network shared storage network at a distance. Its ubiquitous accessibility allows users to make use of it from different devices, such as a cellphone, a tablet, or a computer. Cloud computing solution requires no hardware and is available at any time of day and anywhere in the world if you have an internet connection.
There are three types of cloud solutions. One type of cloud may be better suited to your business than another.
To give you more insight, here are the three types of Cloud Computing:
Public Cloud:

This is the most popular solution, it is managed by an external provider, so virtual servers are available for different users via the Internet

Private Cloud:

Access to this server is intended for a single client, users must have in their possession an access code to access it. It may be available via the Internet or through a private internal network. It is customizable and even more secure than the public cloud, but also more expensive.

Hybrid Cloud:

This solution brings together public and private clouds in order to offer businesses the best of both worlds. The main feature is that with this solution, it is possible to back up bigger data in the private cloud and use the public cloud for other uses.
For businesses, a cloud solution has several benefits, which is why it is increasingly being adopted and used today. If your business doesn't dare follow suit, here are a few benefits that may change your mind.
You should also know that it is possible to group Cloud solutions into 3 distinct categories, SaaS PaaS IaaS:
SaaS (Software as a Service)

is a collection of cloud services that guarantee access to software applications on the internet for customers.

PaaS (Platform as a Service)

is a cloud-based solution that gives IT elements to a company's developers so they can install and program their different applications on the Internet.

IaaS (Infrastructure as a Service)

is a foundation, such as a server or a computer storage that is presented virtually to businesses.
Advantages of a cloud computing solution
For your information's security
To reduce costs
For accessibility
For the execution speed
For the environment
1. For your information's security : Is there risk?
Have you ever had to start a document all over again because a backup had not been done?
Indeed, it is never pleasant! For a company, securing stored data is paramount. If you thought that a cloud solution did not guarantee the security of your data, think again!
Cloud Computing is more than secure! Several features are issued by cloud providers to guarantee the protection of your data processing, particularly in terms of authentication, encryption, and security of the storage servers, also called datacenter.
By guaranteeing the security of your data, you will also avoid losing your documents in case your computer breaks, because everything will be stored on the server.
2. To reduce costs
It is well known that obtaining a software license for a whole company is very expensive. The same applies to the purchase of hard drives or flash drives.
With a cloud-based solution, you won't have to spend on hardware or license installations. Also, a cloud solution updates automatically. Therefore, it saves you a considerable amount of time and money.
Especially for small businesses that are just starting to grow. The money saved will certainly be used elsewhere for the development of your business.
3. For accessibility
Another advantage of adopting a cloud solution is of course its accessibility.
It's a bad morning and you forgot your computer at home? No problem! With a cloud solution, you can connect from any electronic device.
All you need is access to an Internet connection. You can access your documents from your phone or tablet to keep on working throughout the day! You can even borrow a colleague's computer if needed.
You simply have to enter your personal information and you will find all your documents. The backup is done automatically and very quickly. You can also share your documents with other colleagues and see their changes or comments in real-time.
4. For the execution speed
Once you've chosen to adopt a cloud solution for your business, implementation happens very, very quickly.
In addition to being fast, this solution is much more efficient. Gone are the days when your files were too heavy to be emailed!
With a cloud solution, you can simply send a link to the document you want to send. From this link, they will have access to all the documentation.
You won't waste any more time waiting after downloading a file too heavy. You can also send it to several people at the same time!
5. For the environment
The Cloud is also an eco-friendly solution. Since the Cloud is built on virtual servers, this implies a low energy consumption for companies and therefore a reduction in costs.
Since everything is stored directly in the cloud, this solution allows the elimination of the use of hard disks or CDs for the installation of software. Your company will be more eco-responsible, as it will allow your employees to reduce their carbon footprint.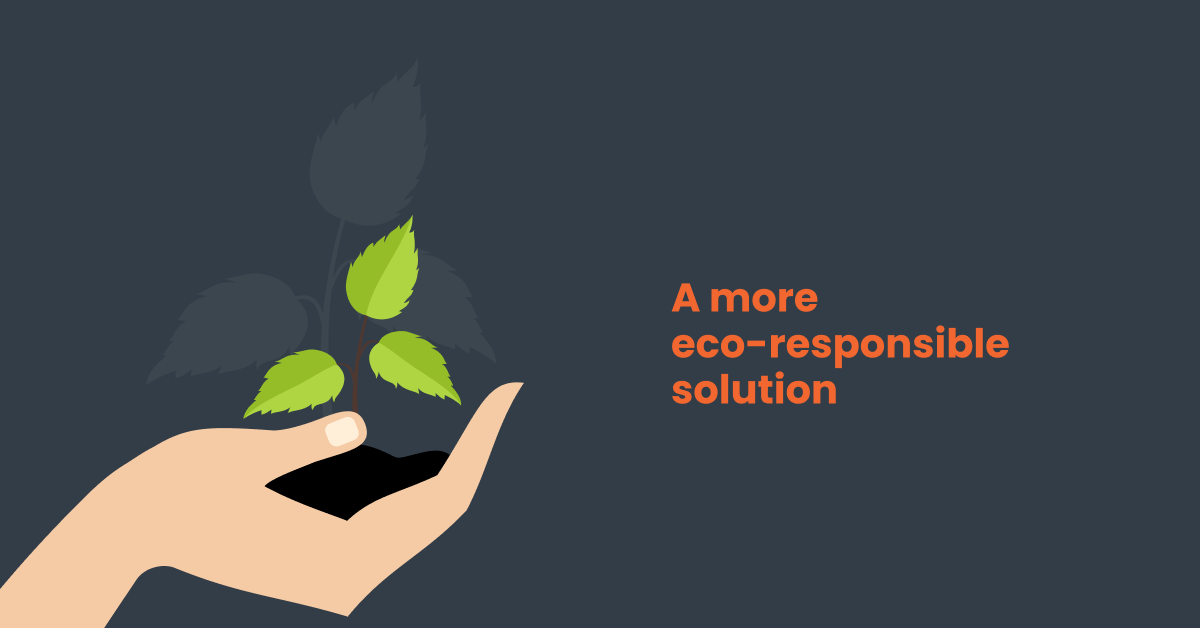 The cloud computing solution, the future for your business?
Nearly 86% of IT decision-makers worldwide say the hybrid cloud solution is perfect for their business needs. Several start-ups realized that the cloud solution met their needs and included several benefits.
It's not just companies that can explore the cloud universe. Indeed, since 2016, Government of Canada, is moving towards cloud-based solution. The consolidation process, which runs until 2021, aims to protect assets and optimize the costs associated with managing government storage by adopting a cloud-based solution.
This indicates, once again, that cloud solutions are growing and that many will soon change their data storage methods to a cloud-based method, which is as, if not more, efficient.
Good news, Hector is a SaaS-like cloud solution, so what are you waiting for? Take the jump and opt for a cloud solution today!